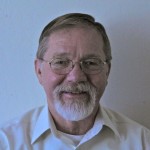 Jim Barnett, Ph.D, Co – President
In my youth in Oklahoma, I attended a conservative church.  I even envisioned becoming a preacher at one time!  But when I went away to college and then university, I began to see the world differently.  I majored in a scientific discipline and upon coming to understand Darwin's theory and Watson and Crick's explanation of how the genetic code works, I was awed beyond belief.  While I believed in the naturalistic explanation of the universe, I also felt that it was important to be in community with others and work for justice.  I stumbled onto the Unitarian Church in the mid 1970's.  At that time, an overwhelming number of its members identified as humanists, and I decided that I was one too.  The Unitarian Universalist (UU) Church has been the only form of organized humanism available for many people.  Upon retirement, I decided to attend the Humanist Institute, a three-year graduate level program where I study the philosophy, history and current issues of humanism.  Understanding that many humanists do not want to be associated with a church and that the UU church, while still very humanistic, embraces many belief systems and thus humanist ideals are diluted, I feel that secular groups not associated with any church should exist for humanists.  I, along with others, decided to establish such a group, the Bay Area Humanists.   My hope is that the group will provide intellectual, political and social support to humanists in our area.  I believe for humanism to thrive in the future, we must establish institutions that meet the needs of humanists and speak out publically to establish a more humanistic world.  I think Bay Area Humanists is such an organization.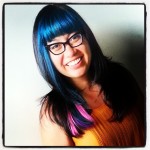 Vanessa Gomez Brake, M.S., Co – President
Vanessa holds a M.S. from the School for Conflict Analysis & Resolution at George Mason University, and bachelor degrees in Psychology and Religious Studies from Arizona State University. In 2014, she graduated from The Humanist Institute with a Certificate in Humanist Studies & Leadership. She is also endorsed by The Humanist Society / American Humanist Association as a Humanist Chaplain.
Since 2008, Vanessa has been active in the San Francisco Bay Area as a community educator, peacemaker and interfaith activist. Currently, she works at Stanford University's Office for Religious Life. Vanessa coordinates programs that that guide, nurture and enhance spiritual, religious and ethical life within the Stanford University community. Previously, she served as the Director of Operations & Outreach at The Chaplaincy Institute, An Interfaith Seminary & Community in Berkeley. Additionally, she serves on the Board of the North American Interfaith Network.
She is a second generation Filipina American. Born and raised in Arizona, she spent significant time living in the Philippines and Guam while growing up. She now calls Oakland, California home. In her spare time, Vanessa likes to eat vegetarian food, ride her bike across the East Bay, perform Filipino Folk Dances and hang out with her husband and dog.
Nancy Jacobsen
Nancy spent 25+ years working in Information Systems at large business & government organizations before she quit to pursue more creative interests.  She owned a  small boutique for a few years before the Great Recession hit.  Now that she is retired, she enjoys playing with her two young grandchildren, taking her dog for walks on the beach and volunteering for various social and political causes.  Nancy has always been an independent thinker, never buying into any particular spiritual party line.  She enjoys learning and sharing new ideas with fellow Humanists.